Hello homeowners and future homeowners. If this is your first visit to my blog. Welcome! If you want to know more about me, check out my introduction/about us blog. If you do read that blog, you'll learn that my husband, Skip, is my trusted resource and I talk about Skip in every blog.
Soooo, Skip's next recommendation concerns your lawnmower and yard equipment. I have to be honest, I consider this topic totally B-O-R-I-N-G! I know, that's pathetic but it's the truth. I will do my best to make this as interesting as possible.
Even if you've already started mowing your lawn, lawnmower maintenance is crucial. If you don't get it taken care of now and your lawnmower breaks down, you'll be really bummed. For those of you who have to take care of your lawn all year, springtime is a good time to take stock of your lawn equipment and do the maintenance.
First things first, the lawnmower blades need to be sharpened. If you can't sharpen them yourself, there are hardware stores that offer this service. For a price, of course.  IMPORTANT NOTE: When you remove the blades, make sure you mark the grass side or down side of the blade, and replace them that way. Many blades are of the mulching type and position is critical.
Skip says you should also change the oil, the filter and the sparkplugs of your lawnmower. Skip stressed, while adding the oil, to make certain you do not overfill it. He said to add the oil slowly, checking the oil level frequently. Before you purchase the new sparkplugs, remove the old plugs and take one with you to the store so you get the right plugs for your mower.
This is where my eyes glaze over and I stop reading/listening/etc. There is no way I would do this job. Since this blog is for people like me, I go back to my three standard solutions. Ask a friend who is handy to show you how to do all the lawnmower maintenance.  Google it. Hire a professional.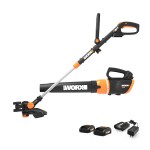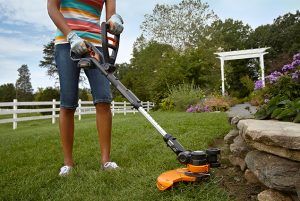 Since you're already taking care of your lawnmower, Skip said to look at your line trimmer, edger, blower, etc. The manuals to these pieces of equipment come in handy as they usually have service instructions. You can ask a friend to help. You can also look online. You can hire a professional. The point is, getting your yard equipment ready for the summer will make things easier during the season.
SYNOPSIS
Get all your lawn equipment ready for the summer season.
For those who maintain a yard year-round, springtime is a great time to see to your lawn equipment.
Sharpen the mower blades.
Make sure to mark the grass side or down side of the blades and replace them that way.
Change the oil, filter and spark plugs on the lawnmower.
Make sure you do not overfill the oil.
Take an old sparkplug with you when you purchase new plugs.
Take care of the maintenance on other lawn equipment: line trimmer, edger, blower, etc.
Ask a friend to show/help you do all this maintenance.
Google it.
Hire a professional.